POTABLE WATER TREATMENT
Reaman Industries can provide potable water treatment systems tailored to meet the needs of the most discerning users. Our declared aim is to meet New Zealand drinking water standards, one of the most rigorous standards in the world! We design, manufacture and install filtration, chlorination and ultraviolet sterilisation units to meet any requirements. Our treatment plants require minimal operator attendance. The quality of the treated water is automatically monitored to achieve constant results.
For bottled water suppliers or tourist operators, we manufacture a water treatment system that provides sterile water at a minimum rate of 20 litres per minute. This low cost Reaman Water Purification Unit will appeal to operators in remote locations who wish to provide their guests or clients with a supply of safe drinking water.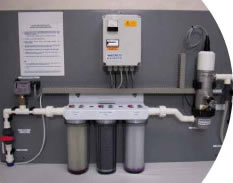 Reaman Water Purification Unit